We didn't pursue by-polls seriously: Naidu
By
Sasi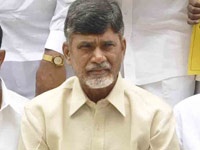 Elections may come and elections may go but we are for the people and we will fight for their rights, reiterated Telugu Desam chief N. Chandrababu Naidu here on Wednesday.
Addressing the media here after the conclusions of by-elections in the Telangana region, Chandrababu said ``we did not take the elections seriously. At the moment, our priority is Babli issue. If we could stop the Mahaharshtra Government from constructing any illegal projects on the river Godavari that will be more than a victory for us.''
``We never craved for power. We want to take up the issues of the people and help make the State prosperous. That is our priority. So neither myself nor the politburo did take any interest in the byelections. It is only the lower cadre which has worked in the elections, '' he observed.
``We never saw the Babli issue as a vote-catching ploy. As we happened to be a political party and we are to take part in the by-elections, so we too contested,'' the former chief minister added.
We didn't pursue by-polls seriously: Naidu - CineJosh
Updated on Wed 28th Jul 2010 06:18 AM IST
Your feedback is important to us and gives us valuable insights which allow us to continually improve and serve you better. We are ready to hear your feedback
Contact Us