Konda Surekha couple arrested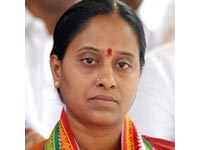 Warangal, Jan 8: The police on Friday arrested former Women and Child Welfare Minister Konda Surekha and her husband Murali at their house as a precautionary measure following the statewide violence triggered by the telecast of a controversial news on a TV channel.The former minister and her husband called for Warangal bandh on Friday demanding a comprehensive report on the death of former chief minister, who was killed in an air crash near Pavuralagutta on Sept 2 from the government.
Surekha urged the government to make a clear statement on YSR's death as the Telugu channel aired a report alleging a high-level conspiracy behind his death.She appealed to the government to order a probe against the Reliance Group proprietors for the alleged foul play. The police had a tough time to handle as Konda Surekha supporters staged a dharna at her house protesting against her arrest.
Your feedback is important to us and gives us valuable insights which allow us to continually improve and serve you better. We are ready to hear your feedback
Contact Us