KCR ignites the fight between Jana and Sabitha.
By
Sasi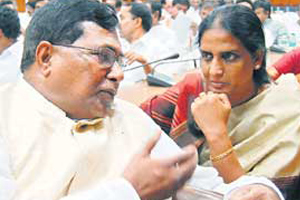 Jana Reddy, the Home Minister of the State during last YSR's regime has shouted high on present Home Minister Sabitha Reddy. This was in regards to the issue of Kcr's arrest before his leaving to Siddipet from Karimnagar.

As per the news, Sabitha Reddy tried to take the toll of arresting the Kcr in the last hour on Jana Reddy by saying in the meet that, "As per the advise of my last Home Minister Jana Reddy we have arrested Kcr in the last hour. Actually my plan was different but we sticked on to Mr. Jana Reddy's plan."

Jana Reddy took the words of Sabitha Reddy seriously and came before the media demanding the explanation or repealing the words from Sabitha Reddy. "Iam in no way concerned with Sabitha Reddy's comments. I never spoke to her regarding the arrest of Kcr. How can she give such statements? These words may project internal disturbances with in the party. I request her to clarify the issue or show the proofs regarding my involvement in Kcr's arrest. It looks as if this is a move by few in the Congress party to defame and demoralize Roshaiah. I don't encourage such moves."

Many who watched this news questioned themselves: "Who is our Home Minister?" Is it Jana Reddy or Sabitha Reddy?
KCR ignites the fight between Jana and Sabitha. - CineJosh
Updated on Tue 01st Dec 2009 11:21 PM IST
Your feedback is important to us and gives us valuable insights which allow us to continually improve and serve you better. We are ready to hear your feedback
Contact Us