What children expect from movies?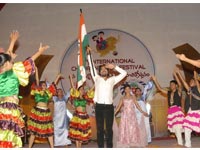 Hyderabad,Nov 17: The ongoing 16th international Children's Film Festival has not only brought the focus back on'child rights'but also brought under public scanner the importance of preserving the blossoms of childhood.
More than what the film critics and film makers say about how it is done and how it should be done,it is interesting to note that children at par school children and street children (including orphans and destitute) feel and say about their rights and also what they expect in children's films.In simple words, Sunita, a 11-year-old orphan of a local school said 'I did rather watch an adventurous movie with action and thrill rather than a film which sermonized us on good and bad in the society'.
Her hostel mate Pranitha (9) was more articulate."We get booed and screamed at every day. Why should we come to a cinema hall to see them again." The need for a focus on what the children expect in a film is to escape from the environment around them – be it home (oppressive parents) or school (competitive and suppressing).The expressions made by some school children and delegates who had come from Delhi and Tamil Nadu are mind boggling."Why do films have a taboo on sex in children's films?. We witness many things in our daily life?," said Prakash Gupta, a delegate from Delhi. Purushottam, a delegate from Tamil Nadu said "It would be better if the children's films displayed the ill-effects of such social aspects like illegal sex, smoking and rowdism."Many children interviewed at the theatres felt that films of China and Germany displayed better concern for greenery,air and water pollution.
"Unfortunately, in India such concerns are displayed as a matter for elders only. Why do not they understand that it is the children who will be first hit due to pollution and ecological imbalances?," said Sajid Ali Khan, a sixth standard student of Nasr School.What the children want in films is necessarily described by adults as 'dreams' and 'fantasy '.The task is to ensure that these fantasies are not wild fantasies which drive the kids crazy and harm themselves or others in trying to emulate them, say veteran film makers.
Your feedback is important to us and gives us valuable insights which allow us to continually improve and serve you better. We are ready to hear your feedback
Contact Us