RTC staff threaten stir
By
Sasi
on Tue 10th Nov 2009 07:03 AM IST | Updated at: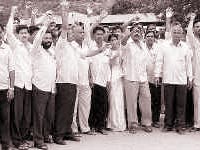 Vijayawada,Nov 10: The Rtc employees are gearing up for a strike as two rounds of talks with the management failed.The Employees Union (EU) served strike notice on the management on October 23.The EU held talks with the management twice but failed to extract any assurance from the management.Following the advice from the Labour Department, the EU has decided to wait till Oct 15 before plunging into an agitation.The EU's main demands include review of time charts from time to time and counselling.additional payment for extra work, uniform pay for equal work,no pay cut for sick leave and that officals should desist from resorting to harassing the employees deliberately.
The EU earlier held two rounds of talks with the management under the aegis of deputy labour commissioner. While the Rtc regional manager maintains that he cannot take any decison on wages, the EU claims that the regianl manager is not taking any decison which is under his purview.If the EU, the majority union, goes on strike, about 45 percent of bus services would be paralysed in the district.
Your feedback is important to us and gives us valuable insights which allow us to continually improve and serve you better. We are ready to hear your feedback
Contact Us