TDP Office shivering @ 'Saitan'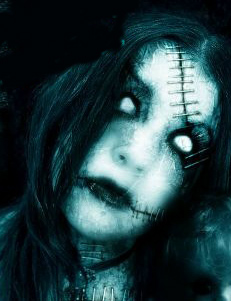 We all know that position of Telugu Desham Party is weakening with each day and Naidu's supremacy as a leader is on declining phase. Both internally and externally, TDP is on rocks. But, here is an unfamiliar observation even about Telugu Desham Party office in Banjara Hills, Hyderabad.
A big hoarding of horror Telugu film 'Saitan' erected exactly at the bust stop opposite to TDP Party office is scaring the politicians and party workers attending the office. Producer of this film seems to have selected a correct place to promote his film but there is a different version from two wheelers and four wheelers passing by this 'Saitan.'
One of the orthodox road user commented, 'it might be the influence of this 'Saitan' that TDP is in troubles. An evil's eye will create all sorts of problems as what we are seeing in TDP. They are shaking internally with leadership issues and externally Naidu is failing consistently as opposition leader.' Well, let us see when this 'Saitan' will let loose in theatres. For time being, it is true that spooky hoardings of 'Saitan' elevated all around Hyderabad are sending chills down the spine for on goers.
TDP Office shivering @ 'Saitan' - CineJosh
Updated on Sat 04th Jun 2011 11:09 PM IST
Your feedback is important to us and gives us valuable insights which allow us to continually improve and serve you better. We are ready to hear your feedback
Contact Us