Jagan to Chiru: Infront Crocodile Festival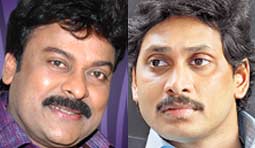 YS Jaganmohan Reddy, the young politician desperate to continue the saga of his father YS Rajasekhar Reddy is preparing a solid ground for foray of his new Party into Andhra Pradesh politics with a championing cause. Before the camera, Jagan's reasoning might be justifiable about not to topple the Congress Government in state; behind the screen there is a sensational sketch outlined to cross the barriers one by one on his way to Chief Ministerial position.
Highly placed sources with in the popular electronic media channels leak the information that Jagan's first agenda will be to weaken the image of Mega Star Chiranjeevi and his Praja Rajyam Party along with lightening up of his self image as the only savior of State after YSR. This calculation is solely based to hammer the votes shared by PRP in last elections, caste based following Chiranjeevi was enjoying in politics and the charisma, build up in the eyes of Sonia Gandhi.
Accordingly, a tripartite action plan will be executed in coming days with media, cinema and political circles as the premier wings of attack. To accomplish the task from Media side, Sakshi News channel has already pumped the needful resources into two more loss making channels which are focusing exceedingly these days on Jagan's political Yatras and in parallel damaging the Mega family image using 'Orange.' The second wing of Cinema will have Rajasekhar, Jeevitha along with Roja and one more popular veteran producer, director who is already on to his task of bringing down the prestige of Mega family. Final and the third Political wing will have Harirama Jogayya and two more Kapu PRP leaders who are ready to shift their loyalties for Jagan, will start their exercise in coming days. So, for next few months Chiranjeevi and Mega family will have to swim against the direction of tide. The ultimate plan of YS Jagan is to see that Praja Rajyam doesn't have any reason to celebrate its Third Birthday Party. The deadline is set…it's 'Infront Crocodile Festival' for Chiranjeevi.
Jagan to Chiru: Infront Crocodile Festival - CineJosh
Updated on Tue 14th Dec 2010 10:26 PM IST
Your feedback is important to us and gives us valuable insights which allow us to continually improve and serve you better. We are ready to hear your feedback
Contact Us