Babu Mohan throws challenge to Harish Rao
By
Sasi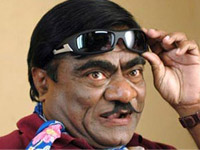 Telugu Desam candidate from Siddipet, Babu Mohan posed a great challenge to Telanga Rashtra Samiti candidate Harish Rao on Saturday.
Addressing the people in Siddipet Constituency, the TDP candidiate said `` if TRS nominee Harish Rao manages to achieve separate Telangana by December 31, 2010, I will withdraw my nomination. The TRS is playing hoax with the people of Telangana and is not seriously committed to the task.''
The TRS which is going to the election on the promise that it would provide them a separate Telangana state will force one more election on the people as they are not capable of focring the Centre to take a decision on Telangana, he added.
The resignation of TRS and TDP MLAs alone would not secure separate Telangana state but it is the resignation of Congres MLAs and MPs from the state will fetch Telangana, Babu Mohan observed.
The actor–turned politician seemed to have learnt his political tricks very well during the recent months as the people are elated by his witty answers on Telangana.
Babu Mohan throws challenge to Harish Rao - CineJosh
Updated on Sat 10th Jul 2010 06:08 AM IST
Your feedback is important to us and gives us valuable insights which allow us to continually improve and serve you better. We are ready to hear your feedback
Contact Us