JC prefers Rayalaseema to be clubbed with Telangana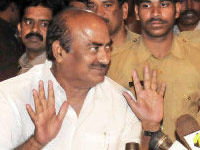 Rayalaseema region should be merged with Telangana if bifurcation takes place in Andhra Pradesh, feels former minister and Congress MLA, Jc Diwakar Reddy.
Justifying his statement that Rayalaseema should be merged with Telangana, he said Rayalaseema
would suffer severe shortage of water because Telangana will stop the water flow into the region.
This is not the first time that Jc Diwakar Reddy has made such demands. Once he even demanded that the Anantapur district should be merged with Karnataka state if Telangana is carved out as a separate state.
Meanwhile the TRS leaders have slammed the demand made by Reddy. They say that it is because of leaders like him that the Telangana people have suffered through decades and they do not want leaders like these in their fold.
Your feedback is important to us and gives us valuable insights which allow us to continually improve and serve you better. We are ready to hear your feedback
Contact Us