I was there for YSR, but nobody for me.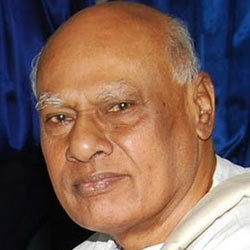 Most strained CM of the state, Mr. K.Roshaiah attending the inauguration of District Police Training Centre at Saripalli village has once again remembered his best professional moments with Late CM YSR.

Speaking about their joint efforts in developing the state, Roshaiah said "As a finance Minister, I used to pull back Late YSR when he made promises to farmers and the poor by reminding him the budgetary constraints. I was always there for YSR, but there is nobody behind me. So, I have to discuss every issue with respective ministers before taking a decision or responding to a representation given by people. YSR was committed and courageous towards his commitment to welfare schemes."

Yes, Roshaiah seems to be feeling the real pain of loosing a close aide.



Your feedback is important to us and gives us valuable insights which allow us to continually improve and serve you better. We are ready to hear your feedback
Contact Us