Quota to Muslims: Govt to move SC against HC verdict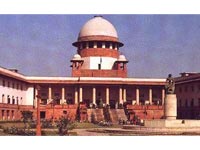 Hyderabad, Feb 8: Following the High Court verdict on reservations for Muslims, Chief Minister K Rosaiah on Monday directed the Advocate General to file a Special Leave Petition in the Supreme Court against the judgment of the Andhra Pradesh High Court.Consequently, the State Government will challenge the High Court verdict quashing a legislation for four percent reservation to the Muslims in educational institutions and public jobs.Reacting to the High Court's verdict, the Majlis-e-Ittehadul Muslimeen staged a protest outside the State Secretariat demanding that the Government take immediate steps to protect the four percent reservation.
Reacting to the High Court's verdict, former minister and Congress party leader Mohammed Shabbir Ali said the Government was committed to providing reservations to Muslims and would take steps to protect the interests of the community. The Congress leader clarified that the reservations were provided only to the economically and socially backward classes among Muslims and not to the entire community.Telugu Desam Party vice-president Lal Jan Basha said the government was not sincere in providing reservations to the Muslims as it failed to put up strong arguments in support of the legislation.
Telangana Rashtra Samiti (TRS) MLA Harish Rao said Muslims deserved reservations as they were more backward than the Scheduled Castes. ``A constitutional amendment should be brought in for the purpose, '' he added.Welcoming the court verdict, Bharatiya Janata Party president Bandaru Dattatreya said ``Our stand that reservations should not be provided on the basis of religion stands vindicated. This is the defeat of vote bank politics of the Congress party," he added.
Your feedback is important to us and gives us valuable insights which allow us to continually improve and serve you better. We are ready to hear your feedback
Contact Us