Lagadapati lambasts KCR
By
Sasi
Thu 28th Jan 2010 07:09 AM IST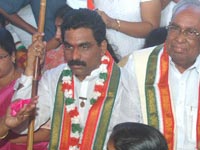 Vijayawada, Jan 28: ``The Congress High Command will not bow to the pressures of deadlines set by the JAC and the isssue of Telangana is a tricky one involving three regions of the state,'' said Vijayawada MP Lagadapati Rajagopal who came to here after his discharge from the NIIMS Hospital, Hyderabad.Speaking to the mediapersons, the maverick MP said the separatists should find out whether the stir launched by K. Chandrasekhar Rao would help benefit the people of Telangana.
It is an irony that professors like Kondandarami Reddy and Jayashankar were instigating the students and driving them to commit suicide.``My indefinite fast exposed how leaders like KCR survived for several days with TPL intravenous fluids,'' he said adding the Telangana Rashtra Samithi leader hoodwinked the people with his growing beard and dull appearance. Even KCR's nephew Harish Rao enacted a drama by pouring some coloured substance on himself by threatening to immolate himself, Rajagopal said.
He expressed doubts over the genuineness of the death of Srikanth who allegedly immolated himself.He admitted that despite some setbacks to the functioning of the Government, Chief Minister K Rosaiah successfully steered through the administrative `vehicle'. ``Even before the elections, the Congress made its stand clear on T and constituted a committee led by Rosaiah and went to the polls. The TRS which is spearheading the so-called agitation failed to get more than 10 seats in the Assembly,'' he said. AICC general secretary Rahul Gandhi never said that development could be possible if states are split, Rajagopal added.
Lagadapati lambasts KCR - CineJosh
Updated on Thu 28th Jan 2010 07:09 AM IST
Your feedback is important to us and gives us valuable insights which allow us to continually improve and serve you better. We are ready to hear your feedback
Contact Us