Naidu is voicing Reliance concerns: Raghuveera
By
Sasi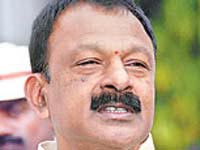 Hyderabad, Jan 8: Agriculture Minister Raghuveera Reddy on Saturday criticized Opposition leader N Chandrababu Naidu for being the `spokesperson' of Reliance Group.Talking to newsmen at the Congress Legislature Party office here, the Minister condemned the statements of Naidu for alleging that followers of Y.S Jaganmohan Reddy were behind the attacks on Reliance stores after local televisions telecasted the conspiracy theory behind the death of former chief minister YS Rajasekhara Rao.
He asked as to why Naidu did not react strongly when the State witnessed agitations and life came to a standstill for separate Telangana statehood.Why was Naidu speaking on behalf of Reliance Industries now, he questioned. He suspected the hand of Naidu behind the large-scale violence in the state after the murder of TDP's legislator from Anantpur, Paritala Ravindra."For any happening in the state, Naidu sqarely blames Chief Minister K Rosaiah, former chief minister's confidante K V P Ramachandra Rao and Kadapa MP Y S Jaganmohan Reddy. This is evident in many ways than one and exposed the malice of Naidu" he said.
He admitted the fans of YSR took to violence after three TV channels aired the conspiracy theory and linked it to the Reliance Group. He said the CBI, which is probing YSR's death, should come out with the truth as early as possible. "It is the CBI's responsibility to clear the mist surrounding the conspiracy behind YSR's death," he stated.Condemning the attacks on Reliance establishments, he reiterated that the Congress had never supported violence. He urged the print and electronic media to observe restraint and verify properly the facts before publishing or telecasting news.He said the Government would moot a proposal to recover damage charges from those who provoke violence in the state.
Naidu is voicing Reliance concerns: Raghuveera - CineJosh
Updated on Sat 09th Jan 2010 07:31 AM IST
Your feedback is important to us and gives us valuable insights which allow us to continually improve and serve you better. We are ready to hear your feedback
Contact Us