"Dammu Leni" United Andhra Protesters.
By
Sasi
Fri 11th Dec 2009 10:12 PM IST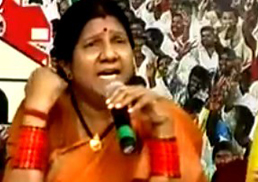 This was witty discussion between TDP MLC Nannapaneni Rajakumari and student Union leader Vittal in a regional news channel. The heated conversation between the two was like a verbal fight, where Nannapaneni Rajakumari bite the dust without getting interested into speaking the non sense and the show's time was up.

Nannapaneni Rajakumari was sitting in the studio of this News Channel, while Student leader Vittal was speaking on the phone. Nannapaneni Rajakumari questioned the basis of dividing the state into two pieces without concerning the opinions of other parties and their leaders.

Vittal gave a strong reply saying, "All Party Meeting was convened by Roshaiah and TDP agreed to support the resolution that will be presented by Congress on Telangana. More over both TDP and PRP supported the issue of separate Telangana by keeping the subject in their election manifestos. What kind of opinions do any body require more from these big parties?"

Vittal also answered arrogantly saying, "United Andhra Pradesh was only the demand raised from Andhra and Rayalaseema regions but not from Telangana people. Why did your demand arise only few hours after the Chidambaram's statement? Is this not a false interest? Why can't you dare to come Hyderabad and start your United Andhra Pradesh agitation by calling for a Hyderabad bandh? Do you have that guts in you to protest here in Hyderabad? (Mee vaallaku aa dammundaa?)Coming to your investments in Telangana, you have done them with your business motive but not for the development of Telanagna. If your aim was to develop Telangana, why haven't you people invested in areas other than Hyderabad?"

In this mean time when Nannapaneni Rajakumari was getting serious over Vittal, the time was up for the show.
"Dammu Leni" United Andhra Protesters. - CineJosh
Updated on Fri 11th Dec 2009 10:12 PM IST
Your feedback is important to us and gives us valuable insights which allow us to continually improve and serve you better. We are ready to hear your feedback
Contact Us