Traffic vows for Sudheesh, TDP mayor candidate.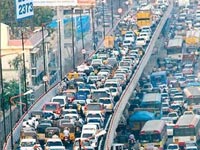 Hyderabad,Nov 6:Thanks to traffic jams and overcrowded roads of Hyderabd city,the Telugu Desam party mayor candidate Sudeesh Rambatla was caught in traffic jam and failed to reach nomination office in time to file his nomination for Greater Hyderabad Municipal Corporation elections.Consequently he forfeited his chances of being elected as Mayor of Hyderabad.The main opposition TDP,which is pinning lot of hopes on the GHMC polls has shortlisted the name of Sudeesh rambatla for the Mayoral post and the last day for filing the nomination is 4 pm on Friday.
As Sudeesh started from home a few hours before the deadline hoping to reach the Returnig Officer's office in time,but his hopes were dashed as all the roads in Hyderabad today were overcrowded with the supporters of frustrated candidates who could not secure tickets in the GHMC elections from their respective parties.Stuck up in traffic,Sudeesh failed to reach Returning Officer's office at HyderNagar in time.The authorities promptly refused to accept his nomination citing the reason that he was not on time.Stunned by the reversal,the TDP leaders are contemplating to set up Singireddy Srinvas as mayor candidate of TDP from Saifabad.
Your feedback is important to us and gives us valuable insights which allow us to continually improve and serve you better. We are ready to hear your feedback
Contact Us