Jaago Telanganawaale, Bhaago Andhrawaale.
By
Sasi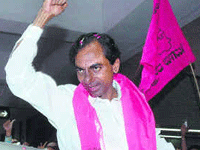 "Telangana Udyogula Garjana", a massive public meeting organized by Telanagana Rashtra Samithi in Siddipet has just completed few minutes ago. The huge gathering in Siddipet was mainly attended by Telangana Government employees and Political leaders from various districts of Telangana.

K. Chandra Shekhar Rao (KCR) tried to woo the audience with his speech which has a pucca Telangana touch. The meeting was held against the State Government stand on "Free Zone status of Hyderabad", "Implementation of 610 GO" and "Separate Telangana State formation". KCR ridiculed Roshaiah as a liar and Chandrababu as a worst Politician who can't lead the opposition.

Speaking from Siddipet dias, KCR raised the new slogan "Jaago Telanganawaale, Bhaago Andhrawaale" (Wake Up Telangana people and Make Andhra people run away from your land). He even warned State and Central Congress Governments to hold responsibility for all future happenings including the "Civil War" in the State. "If Telangana officials say 'Pen Down' and Telangana police say 'Gun Down'…will this State administration run? We will show them the real power of Telanagana in Novermber and December," KCR roared.
Jaago Telanganawaale, Bhaago Andhrawaale. - CineJosh
Updated on Thu 22nd Oct 2009 08:45 AM IST
Your feedback is important to us and gives us valuable insights which allow us to continually improve and serve you better. We are ready to hear your feedback
Contact Us