Dr YSR Abhayahastham scheme to begin on Nov 1
By
Sasi
on Wed 21st Oct 2009 09:49 AM IST | Updated at: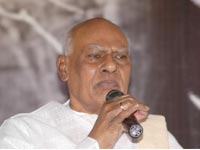 Hyderabad,Oct 21: The Chief Minister, K Rosaiah, will commence 'Dr. YSR Abhayahastham' scheme by handing over the Policy Certificates to the enrolled members at Chevella on November 1, 2009.On the same day, District-in charge ministers will hand over the policy certificates to the members in their respective districts. About 50 lakh members have already enrolled into the scheme and paid their annual contribution of Rs. 365/- each to the Mandal Samakhyas to be transferred to the LIC, who are the fund managers of the scheme.The Chief Minister today held a review meeting on the Dr. YSR Abhayahastham scheme with officials at Secretariat.It is also proposed to distribute the Policy certificates in all the Mandals from 1st November, 2009 to 10th November, 2009 through respective MLAs and public representatives concerned.
The Chief Minister today decided to release the Government's co-contribution of Rs. 15 crores per month on a regular basis. This will also be transferred to the LIC towards Government's co-contribution to the scheme. Out of the 50 lakh enrolled members, 4,50,000 members have already crossed 60 years and are now eligible to receive the pension from November.However the Chief Minister directed the officials to thoroughly verify the eligibility and other details of the 4.5 lakh immediate beneficiary members before issuing the sanction proceedings since the pension is for a life time at the rate of Rs.500/- per month.
The Chief Minister has decided to issue the pension sanctions through District Collectors.The Chief Minister also directed to open the bank accounts of the beneficiary members for payment of pension through biometric system to prevent malpractices. It was also decided that an MoU in this regard will be signed with LIC of India on 27th of October.It may be recalled here that the Government of Andhra Pradesh have formulated a co-contributory Pension and Insurance Scheme for the Self Help Group women members in rural and urban areas to provide income and social security to all these women SHG members to enable them to lead a secure life with dignity.

Your feedback is important to us and gives us valuable insights which allow us to continually improve and serve you better. We are ready to hear your feedback
Contact Us