T Cong MPs may resign afresh: Yashki
By
Ram P
Fri 18th Nov 2011 10:34 AM IST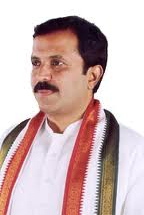 Congress MP from Nizamabad Madhu Yashki on Friday stated that the elected representatives from the Telangana region are ready to sacrifice their posts if the Centre announces unfavourable decision on Telangana statehood.
Talking to media persons at the Chief Minister's Camp office, Madhu Yashki said that the Centre should not delay the announcement on Telangana State formation and should not test the patience of people in the region. Demanding that the Centre introduce Telangana bill in the winter session of Parliament, he said that the Telangana people's representatives were ready sacrifice anything for the cause of separate statehood.
The Nizamabad MP said that the Centre has been delaying the decision on Telangana as it has different opinion on general strike of employees and resignation of elected representatives. He said the Telangana leaders would intensify their agitation for the statehood irrespective of party affiliations and ready to submit resignations afresh. He said the Congress leaders from the region have discussed about agitating unitedly for statehood with Telangana Rashtra Samithi president K Chandrasekhar Rao and Telangana Political Joint Action Committee Chairman Prof M Kodandaram.
Madhu Yashki took serious objection over Seemandhra leaders describing resignation of Telangana leaders as 'political drama.' He blamed Vijayawada MP Lagadapati Rajagopal and Telugu Desam party president N Chandrababu Naidu for Centre taking a U-turn on Telangana statehood issue.
The Congress MP said the party leaders would soon meet Congress president Sonia Gandhi and explain her that the party would be completely wiped out in the region if it fails to announce a favourable decision on Telangana.
T Cong MPs may resign afresh: Yashki - CineJosh
Updated on Fri 18th Nov 2011 10:34 AM IST
Your feedback is important to us and gives us valuable insights which allow us to continually improve and serve you better. We are ready to hear your feedback
Contact Us