Narasimhulu seeks KCR's apology for diluting T agitation
By
Ram P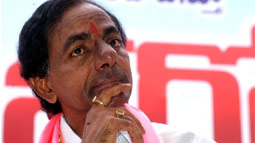 Telugu Desam Telangana Forum MLA Motkupalli Narsimhulu on Tuesday asked Telangana Rashtra Samithi president K Chandrasekhar Rao to apologise for cheating people of region in the name of statehood agitation. He alleged that KCR has benefitted through award of tenders for the multi-purpose Polavaram irrigation project to his benamis.
Talking to media persons at NTR Trust Bhavan, Narsimhulu suspected the commitment of TRS towards achieving the Telangana state. He alleged that the TRS leaders were working for selfish gains. Describing KCR as `Traitor of Telangana', he said that he 'mortgaged' the interests of people of region by diluting employees' 42-day agitation. He advised KCR to relinquish the agitation and sit in house after apologising to Telangana people. He said that the Telangana state would be materialized if KCR is sidelined from the agitation.
Narasimhulu also held KCR responsible for the pathetic condition of farmers and withering of crops due to frequent power cuts caused due to SSCL agitation. He said that the Telangana Employees Joint Action committee chairman Swamy Goud should take up the responsibility of agitation in the place of KCR.
Narasimhulu seeks KCR's apology for diluting T agitation - CineJosh
Updated on Tue 25th Oct 2011 08:21 AM IST
Your feedback is important to us and gives us valuable insights which allow us to continually improve and serve you better. We are ready to hear your feedback
Contact Us