Young politician in 'Nimma Shakti'!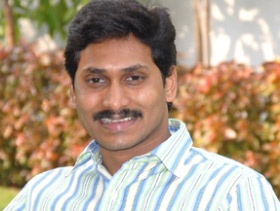 None other than Ys Jaganmohan Reddy, the son trying to follow the foot steps of his father Late YSR. Fighting against the Government of AP on the issue of Fee Reimbursement, Jagan's one week 'Fees Poru' has ended on a comedy note as neither the ruling Congress nor the opposition TDP has reacted to his stint.
On the other side, the innocence of YS Jagan has clearly come out with the formula of 'Nimma Shakti.' Yes, the one week hunger strike of Jagan hasn't made him weak biologically. 'Studio N' always hunts for a chance to start mud slinging on Jagan has specially covered a comedy debate on 'YS Jagan's 'Nimma Shakti.'
Soon after relieving himself from the fast by drinking a glass of Lemon Juice, Ys Jaganmohan Reddy blasted in regular the Congress in State and Centre with super energy, no where looking like a man fasted for seven days. TDP and Studio N have come out satirical on what kind of Lemons did Jagan use to maintain that dashing health.
Young politician in 'Nimma Shakti'! - CineJosh
Updated on Mon 28th Feb 2011 08:05 AM IST
Your feedback is important to us and gives us valuable insights which allow us to continually improve and serve you better. We are ready to hear your feedback
Contact Us