Chiru to meet Sonia Gandhi on merger!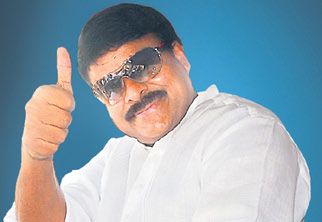 Finally the much enthused Praja Rajyam emergency party meet ended on a positive note few minutes ago taking a unique decision to accept the wish of Sonia Gandhi either to merge PRP in Congress or to support Congress in State. Accordingly PRP Chief Chiranjeevi will meet Sonia Gandhi on 7th of the month (February) to discuss the future plan of action that is to be worked out on this new alliance.
Out of total strength of 18 MLAs of PRP, 15 participated in the meet while YS Jagan supporters bunked. 'The Social Justice slogan given by Praja Rajyam cannot be achieved single handedly by PRP alone. We are to join the hands with Congress in fulfilling our slogan. We haven't arrived at a final decision on the call from Congress. Our Chief will meet Sonia Gandhi on 7th just to listen the guidelines about alliance. Later on, we will convene a PRP internal meeting to arrive at a conclusion,' said PRP senior leader C. Ramachandraiah while internal sources say that a discrete plan has been laid by leaders to merge PRP in Congress and the scheduled meeting on 7th is a one step forward to final merger.
Your feedback is important to us and gives us valuable insights which allow us to continually improve and serve you better. We are ready to hear your feedback
Contact Us