TDP in favour of T State!
By
Ram P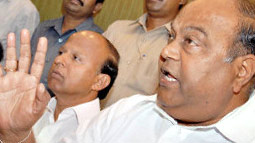 Telangana Telugu Desam Forum convener Nagam Janardhan Reddy on Tuesday criticized the leaders for targeting Telugu Desam chief N Chandrababu Naidu for not making his stand clear on Telangana statehood issue so far. Talking to media persons at Telugu Desam Legislature Party office, the party's senior Telangana leader said the Telugu Desam Party is committed to the formation of Telangana state.
Mr Janardhan Reddy said the Telugu Desam party has made its stand clear before going to polls in 2009 when it had tied up with the Telangana Rashtra Samithi. The very fact that the TDP had entered into an electoral alliance with the TRS itself was proof enough that it was in favour of a separate Telangana state, he said.
Apart from this, the TDP's election manifesto had also clearly mentioned that it stands by the calls of formation of a Telangana state, Mr Janardhan Reddy pointed out. Reacting to questions by the media persons that party leaders were leaving the TDP because of its hazy stand on the contentious issue, the senior leader said that this was not true. He stated that nobody was leaving the TDP because of the Telangana issue. "We will work from party to fulfill the aspirations of Telangana people. There is no crisis in the party over the formation of Telangana state," Mr Janardhan Reddy said.
He said the Telangana Telugu Desam Forum would make its stand clear and decide future course of agitation after the outcome of all-party meeting convened by Union Home Minister P Chidambaram on January 6 in New Delhi.
TDP in favour of T State! - CineJosh
Updated on Tue 04th Jan 2011 06:49 AM IST
Your feedback is important to us and gives us valuable insights which allow us to continually improve and serve you better. We are ready to hear your feedback
Contact Us