Parama Veera Chakra working out for Ramcharan!!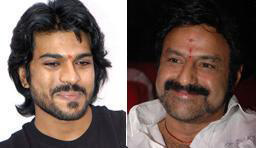 Paruchuri Gopalakrishna and Paruchuri Venkateshwara Rao known as Paruchuri Brothers are master script writers and dialogue writers in industry and with special reference to top heroes. Their play area in recent times ranged from mass movies like movies like 'Indra, Samara Simha Reddy and Narasimha Naidu' to sensational 'Tagore.'

From last few months, they were trying continuously to please Chiranjeevi to make a come back with bounded script of 'Uyyalawada Narasimha Reddy' but Chiru was still apprehensive. Sources started to flare the news that Balakrishna was their next option and they are giving their best show. But, Balayya siding with Dasari's 'Parama Veera Chakra' has disappointed them and now they are known to be left with Chiranjeevi as the best and only option for this all powerful role.

May be that's the reason why Paruchuri Bro's are working for Ramcharan's 'Merupu.' A mega success for Ramcharan with 'Merupu' will make them one step close to 'Uyyalawada' with Chiranjeevi. Let their dreams cherish and Chiru make a come back to prove that he is still 'Numero Uno' in the filed.

Parama Veera Chakra working out for Ramcharan!! - CineJosh
Updated on Thu 06th May 2010 11:19 PM IST
Your feedback is important to us and gives us valuable insights which allow us to continually improve and serve you better. We are ready to hear your feedback
Contact Us