Sexy heroines dirty dance with cricketer!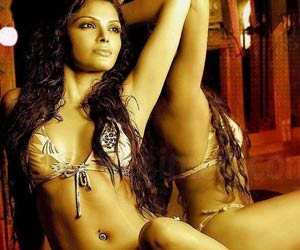 Indian Premier League is less of game and more of entertainment and partying. In a recent match of Kolkata Knight Riders at the Eden Gardens, they crushed up Shilpa Shetty's Rajasthan Royals. After the win, the mood was jubilant in the team and they have graced the occasion of a fashion show and disco party tonight.

In that late night partying, special attraction was known to be hot bomb shell Sherlyn Chopra. A source confirms that West Indies Cricketer Chris Gayle took an instant liking to Sherlyn Chopra when he met her at the bar. With other team members both of them have hit the dance floor and started performing most erotic movements. Sherlyn and Chris seemed to be having a great time, so much so that they took dirty dancing to a whole new level. Both were strutting their stuff and showing off hot, raunchy moves which made other players to down their jaws.

None knows what happened later, but the couple exited the dance floor to get away for some quiet time only to return back and join the party after one hour. Many around started to wonder, what Sherlyn Chopra really liked about Chris Gayle.
Your feedback is important to us and gives us valuable insights which allow us to continually improve and serve you better. We are ready to hear your feedback
Contact Us