Sania n Shoaib: Ganthaku Thagga Bontha.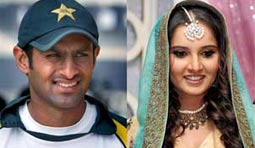 Fenced boundaries and huge army personnel have become transparent before their divine love. Yes, theirs is a great love story which has no boundaries. Sorry, iam not speaking about the love between Sania Mirza and Shoaib Mailk…what I was speaking about is a similar love story concept which was seen in the film 'Veer Zaara' of Shahrukh and Preity.

Of course our Hyderabadi girl Sania Mirza and Pakistani Shoaib Malik's love story runs on same lines but many in the city who knew her from close have called this love as opportunistic. Sania was engaged to his old friend Sohrab and later they have called off the marriage while Shoaib is also known to have married a Hyderabad girl Ayesha Siddiqui on phone but later failed to accept her, which left their family in huge distress.

If Sania Mirza is getting down the ladder in Tennis; it is Shoiab who was even fined for Rs. 20 Lakhs and one year ban by Pakistan Cricket Board for his proved misconduct. More than that, both of them are fancy in their respective fields. That is why, people in Hyderabd who are unable to digest the news started to through satires calling the pair as 'Ganthaku Thagga Bontha.'

Of course, it may not be right to comment on their personnel issues; a point severely noted that she can marry anyone, but it is a shame that she is settling down in Dubai. Our India and our Andhra Pradesh state and Hyderabad city gave so much to her but she is settling down in Dubai.
Your feedback is important to us and gives us valuable insights which allow us to continually improve and serve you better. We are ready to hear your feedback
Contact Us