Shruthi speaks about Siddharth.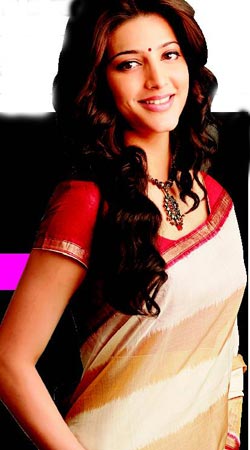 Shruthi Hasan's debut 'Luck' didn't prove even remotely lucky for her. Being a super star Kamal Hasan's daughter, everything would have fell right in no time but in order to struggle for a bright future Shruthi Hasan shifted to Mumbai with all her bag and baggage. Fortunately South offers are pouring at her feet after entering into Bolly town.

It will be the fantasy film with Siddharth, Prakash and a kicking concept with Suriya, Murugadoss starrer; again few more Bollywood projects in pipeline. Although she is excited about the upcoming ventures, ask Shruthi about the man in her life, she throws her sharp shooter looks and says 'Is Siddharth the man you are talking about? He is absolutely not,' she says vociferously.

'Yes, we hang out a lot and I think he is a wonderful person and a gifted actor. I have learnt a lot from him on many levels, but for the last time, Iam not seeing Siddharth,' Shruthi Hasan clears the air. Hope even they are enjoying the wild rumors making rounds in media about their so called imaginative romantic love story.

Your feedback is important to us and gives us valuable insights which allow us to continually improve and serve you better. We are ready to hear your feedback
Contact Us