Srija, Sirish opening up their social life.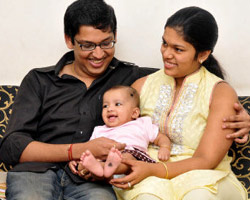 Few years ago, none knows who this Sirish Bharadwaj is. After the great escape and well planned elopement with Chiranjeevi's daughter Srija, the name has hit the headlines and over night he has became more famous for his bold, daring and dashing attitude of even dealing with a star like Chiranjeevi. That is our youth power.

Later, he struggled with Srija traveling to New Delhi and appointing the advocate Pinky to get those police protection and all this was a pride history for Sirish Bharadwaj. Later the birth of beautiful daughter Nivriththi and appointment of Sirish Bharadwaj as regional censor board member are noted by mega fans as indications of patch up between both the families.

Till this day, one cannot clarify that Chiranjeevi has totally given up their past vows but Srija and Sirish Bharadwaj who haven't opened up their social life totally are slowly appearing in party's, cine and fashion events showing that everything is a closed issue and both the families are happy with their relation. Well, recently both of them are spotted having fun time at Hyderabad Designer 2010 Fashion Week with cute Nivriththi who was a well discussed subject at the event. Click this link to view the pics of Srija and Sirish Bharadwaj at Hyderbad Designer 2010 Fashion Week.



Srija, Sirish opening up their social life. - CineJosh
Updated on Thu 25th Feb 2010 11:02 PM IST
Your feedback is important to us and gives us valuable insights which allow us to continually improve and serve you better. We are ready to hear your feedback
Contact Us