How Can Police File Case on Pawan?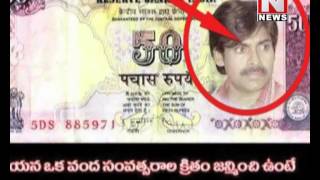 From morning hours of yesterday, a shocking news on Pawan Kalyan's photo being morphed on Rs.50 currency note and LB Nagar police have booked a case is making rounds in media circles. Replacing the existing photo of Mahatma Gandhi with Pawan Kalyan is definitely an illegal move but how come Police can find fault with Power Star is a question unaswered.
Actually the news is linked to a Facebook post saying, Had Pawan Kalyan born 100 years ago, our currency note would have been like this which is instantly shared by Power Star Fans on social networking. Legally rules will not permit Pawan to hold responsible for some mischief done by a section of Fans. However, experts say that no one can file the case on Pawan for this crazy act of Fans.
Your feedback is important to us and gives us valuable insights which allow us to continually improve and serve you better. We are ready to hear your feedback
Contact Us