'Naayak' Wins on 'SVSC' in a Mind Game?
By
Ram P
on Sat 15th Dec 2012 06:42 AM IST | Updated at: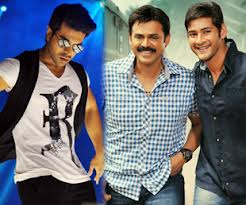 As far as the release dates of the movies are concerned, we have seen several tug of wars among different star heroes, as they fought on releasing their movies on the same date. However, this is the first time in the history of tollywood that two movies fighting for the audio launch dates. Going by the details, the makers of 'Naayak' and 'Seethamma Vaakitlo Sirimalle Chettu' thought that releasing the audio prior to the release date of their opposition movie would be a failure strategy. Obviously, the audio, that gets released next after the first movie's audio gets more mileage than the other.
That's why, the fight on the audio release dates of the two movies was started. Because of this factor, the audio release dates of both the movies have been changed innumerable times. Finally, Cherry's 'Naayak' got an edge over 'SVSC', as the latter's audio is releasing on 16th December and 'Naayak's audio is releasing on 17th December.
Your feedback is important to us and gives us valuable insights which allow us to continually improve and serve you better. We are ready to hear your feedback
Contact Us