Colors Swathi upset after Appalraju audio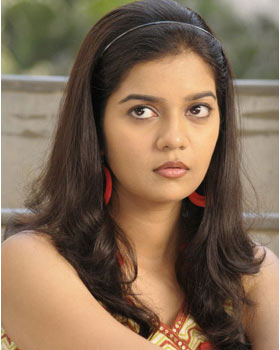 How can media stay silent when something is happening around and that too sensational. After Yana Gupta's 'No Panty' stunt that wooed Bollywood, very quick was Colors Swathi doing something similar at 'KSD Appalraju' audio release. Although this bubbly girl was lucky to escape without much of media's attention yet few of them caught it right and tried to teach her some basics for being a native girl of Telugu land and wearing those untraditional and awkward mini costume then feeling uncomfortable throughout the event (link).
Colors Swathi who haven't witnessed such kind of bad focus in her entire career is known to be hurt and upset by media enthusiasm sharing it with close friends. Better Swathi take it in good interest of her future career because she is the alone hope for Telugu audience as none of our native Telugu heroines really shined bright in industry in last few years. Wish that Swathi remain that kind of girl who brings back the market for our own girls in our own industry.
Tags:
COLORS SWATHI
KSD APPALRAJU
HURT
MEDIA ENTHUSIASM
5