Brahmi's tiff with Producer for Money!?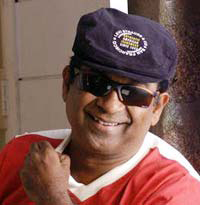 Most popular comedian Brahmanandam is considered 100% professional when coming to fulfilling his responsibilities as an actor and at the same time a strict businessman in taking home the remuneration; don't mind even by pinching the Producer and Director. Here is an instance which is going round in Film Nagar where in Brahmi's tiff with a Producer/Director has become the most popular discussed gossip.
Unlucky aspect here is that, the Director/Producer in this context belongs to Brahmi's son Gautham's film 'Vareva.' None knows what is the financial issue running behind but Brahmi was known to be showing anguish over this debut technician and walked away seriously in between from the dubbing sessions. Now, sources report that 'Vareva' may further get postponed by these money matters but Brahmi seems to be having no regrets and may not comeback till the problem is resolved. That is too stingy and stringent Brahmi for you folks…!
Tags:
BRAHMANANDAM
VAREVA
FINANCIAL TROUBLES
REMUNERATION
GAUTHAM
5