Ayazuddin Driving @ 200 kmph Speed!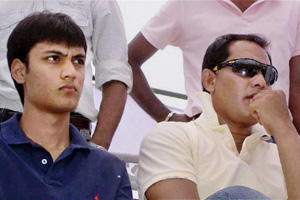 Mohd Azharuddin's son Ayazuddin fighting for life in Apollo Hospitals is grievously injured in an accident that happened on Outer Ring Road (ORR) during a Bike Race. Reports say that, ORR does not actually permit the driving of two and three wheelers while Ayazuddin entered on the track with new Suzuki GS XR 1000 bike and he was driving at nearly 200 kmph. His plan was to ride the new unregistered bike at 250 kmph. Police say that Ayz did not even have a valid driving license.
As per Traffic Police stats, there are nearly 32 fatal bike accidents registered on ORR till August and all of them involved in bike races. This road has become an expressway not for heavy vehicles but for unauthorized two wheelers. Laborers working on side of ORR say that, nearly 30 bikes were seen participating in the race.
Ayazuddin, Bike race, Azharuddin Son, Outer Ring Road
Tags:
AYAZUDDIN
BIKE RACE
AZHARUDDIN SON
OUTER RING ROAD
SUZUKI GS XR 1000
5