Raina in Love with Girl & Bookie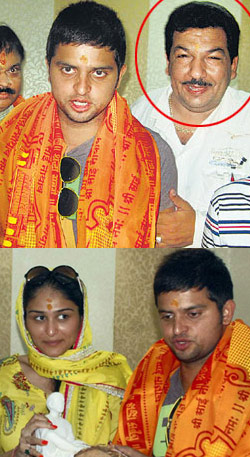 Indian cricket team's stand in captain Suresh Raina is on a swing in Indian news channels from last three days after his visit to Shirdi. He is attracting all eyeballs for two wrong reasons. First, it is the presence of Union Heavy Industries Minister Praful Patel's daughter Poorna with him and second is (see the above picture) Raina spotted with the man in white shirt holding his arm. Name of that man is Deepak Naraini alias Balaji, a notorious bookie arrested in 2002 and 2008 on betting and rape cases.
Raina is acting as a temporary stand in captain for Indian cricket Squad in West Indies. Appearance of Poorna (IPL Hospitality Manager) might not trouble Raina for a long time but days before going to West Indies, observing a bookie besides captain smells something wrong for this young man. Just and wait see, how Raina's match with these two work?
Tags:
SURESH RAINA
POORNA
PRAFUL PATEL
DAUGHTER
BOOKIE
DEEPAK NARAINI
SHIRDI
5