Problem with Sania-Shoaib Marriage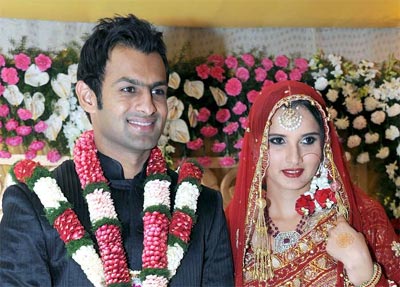 The fresh buzz in celebrity circles is about the rift between Indian Ace Tennis player Sania Mirza and Pakistan batsman Shoaib Malik. A popular magazine quoted the celebrity couple's four year marriage is on the rocks and they are no more to live together owing to some ego problems rising to serious disturbances. While Shoaib's career is one of the reasons behind their split, elders from both sides helping the couple to patch up but all their efforts are going in vain.
When the gossips spread so fast reaching the ears of Sanias's dad Imran Mirza, he offered a strong reply. 'This is absolute non sense. Sania and Shoaib are together at US and Australian Open. If they are two aren't spotted together for some time, that doesn't mean there is something wrong in the relation,' Imran Mirza said. Wait and see, what is going to happen.
Tags:
SANIA MIRZA
SHOAIB MALIK
MARRIAGE
ROCKS
TENNIS PLAYER
CRICKET PLAYER
IMRAN MIRZA
5