Who is this Sampoornesh Babu?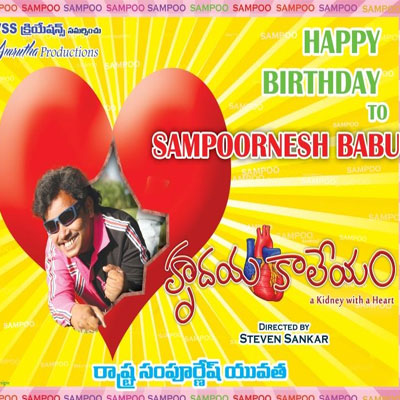 His name is Sampoornesh Babu like Mahesh Babu. He has the fans association named 'Rashtra Sampoornesh Yuvatha' like 'Rashtra Chiranjeevi Yuvatha'. He also has the pet name 'Sampoo'.Even though he was unknown till some days ago, all of a sudden, his name went on viral among netigens. His debut film 'Hrudaya Kaaleyam is yet to be released.
'A kidney with a heart' is the tag line of 'Hrudaya Kaaleyam'. It appears this is going to be a satirical film on Telugu movies. This movie was directed by Steven Sankar on Amrutha Films. VSS Creations is presenting this movie.
Tags:
SAMPOORNESH BABU
HRUDAYA KAALEYAM
A KIDNEY WITH A HEART
6