Nitin - Nitya Fans Upset!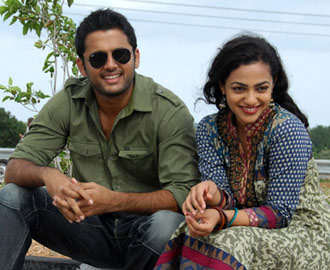 Hero Nitin has good number of fans among youth and similar is the case with Nitya Menon. However, there are some people, who like the 'jodi' of Nitin and Nitya. No wonder many movie goers watched 'Ishq' and 'Gunde Jaari Gallanthayyinde' to enjoy the combo of Nitin and Nitya.
Meanwhile, Yami Gautham was selected as the heroine of Nitin's forthcoming movie 'Courier Boy Kalyan' long back. After the success of 'GJG', it was heard that Yami would be replaced by Nitya to continue the hit pair sentiment to the movie. Finally, Yami Gautham has been chosen by Nitin. Though some of his fans felt sad about it, many movie buffs are appreciating Nitin, as he was abided by the previous commitment with Yami Gautham. Now it is Yami's turn to prove her mettle as an actor through this movie.
Tags:
NITIN NITYA
NITYA MENON
NITIN AND NITYA FANS UPSET
GJG
NITIN NEXT MOVIE YAMI GOUTAM
COURIER BOY KALYAN
GJG HERO NITIN
4