Salman Khan's Angry on Ram Charan!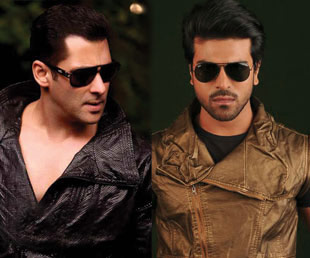 Bollywood superstar Salman Khan got angry on Mega Power Star Ram Charan. However, it can be treated as an affectionate anger and Ram Charan himself revealed the details of Salman Khan's anger on him. In an exclusive interview to one of the leading Telugu newspapers of the state, Ram Charan said when he was busy attending the shooting schedules for his bollywood debut movie 'Zanjeer' in Mumbai, Salman Khan called him up and expressed his anger for not making a call to him. Thereafter, Ram Charan got the carrier for his lunch from Salman Khan's house and it continued till the end of his shooting part in Mumbai. Meanwhile, Ram Charan has also revealed that Salman Khan has been the close friend of their family for ten years, ever since he acted Thums Up ad along with Chiranjeevi.
Meanwhile, 'Zanjeer's shoot is in finishing stages. Priyanka Chopra will be seen as the lady lead of the project. Devi Sri Prasad is scoring the music of the movie. Apoorva Lakhia is directing the movie. Amit Mehra is the producer.
Tags:
RAM CHARAN
SLAMAN KHAN
BOLLYWOOD SUPER STAR
ANGRY
ZANJEER SHOOT
4