Dasari Should Consult Nag First!
Mon 25th Mar 2013 11:33 AM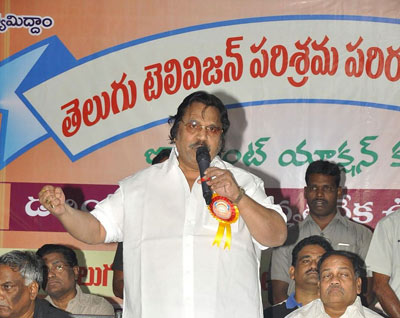 Darshakaratna Dasari Narayana Rao's support on Telugu TV artists protests is appreciated by everyone and all. Dasari has been demanding to ban dubbing TV serials and to telecast only the serials which enacted by only Telugu TV artists. Though, most of the channels accepted the wish of Telugu TV artists, channels like MAA TV are yet take their decision on this issue.
Even though Dasari has been success in moving his mouth well on this issue, he failed to move his feet towards the management of MAA TV. It is a known thing that King Nagarjuna is the major stakeholder of MAA TV comparing with Chiranjeevi, However, Dasari requested only Chiranjeevi to settle this issue but has not compelled Nag on this issue. This factor creates suspicions on most of the people as they felt Dasari using this issue to politicize. That's why fans of Dasari are hoping Dasari should consult Nag first to settle the matter and to prove his honesty in supporting TV artists agitations.
Tags:
DASARI NARAYANA RAO
TV ARTISTS
NAGARJUNA
CHIRANJEEVI
DUBBING TV SERIALS
4
Latest