Pawan Dominates All Colleges!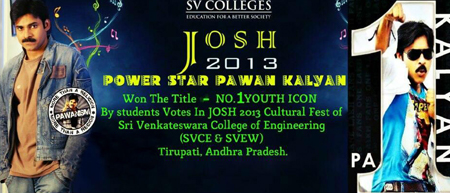 Looks like Power Star Pawan Kalyan has gradually emerged as the undisputed king of tollywood. As per an interesting survey, more than 90% colleges of the state, which include Junior Colleges, Degree Colleges, Engineering Colleges and Universities have unofficially decided Pawan Kalyan as the number one hero of tollywood. The reason for their favoritism on Pawan Kalyan is clear, it's simply due to his attitude.
Recently, Josh 2013, a cultural event was held in Sri Venkateswara Engineering College of Tirupathi. Pawan Kalyan won youth icon title in a contest conducted in this cultural event. As many as 4000 students casted their votes and Pawan Kalyan got maximum number of votes.
Tags:
PAWAN KALYAN
JOSH 2013
KING OF TOLLYWOOD
COLLEGES
TIRUPATHI
YOUTH ICON
4