Mahesh Starts Worrying About Prabhas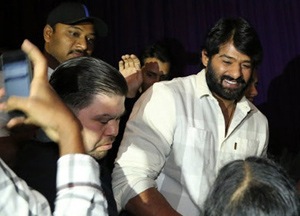 Though Pawan Kalyan and Mahesh Babu are considered as Tollywood Kings in Overseas market, one should agree on consistent domination of Mahesh in the US of America. All the way from 'Dookudu, Businessman' and 'SVSC,' there is Mahesh Mania floating on and none inclusive of Ramcharan was able to withstand it. But, one man who seems to be an imminent threat for stardom of Mahesh is Prabhas because an average treat like 'Mirchi' fared beyond the expectations of analysts. So, just hope...what could be the BO situation if Prabhas comes out with a complete positive and high rated film? In order to capitalize on the craze and love showered by Telugu NRIs, Prabhas immediately traveled to USA.
Now, Mahesh seems to have sensed all this and is on a plan to keep his following and mania unhindered. So, his next untitled movie in direction of Sukumar will have audio release function conducted in USA and this is first time, Mahesh is paying back to his International Fans. This move by producers (who are releasing the same movie in USA) clearly show that, time has come for Mahesh to face a stiff competitor in Prabhas.
Tags:
MAHESH BABU
SUKUMAR
AUDIO RELEASE
USA
PRABHAS
OVERSEAS
MIRCHI
5