Baahubali's attempts to do Justice to Title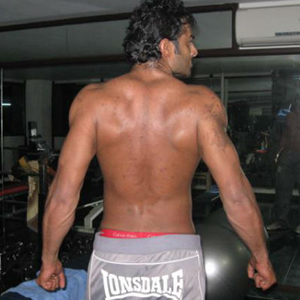 Young Rebel Star Prabhas and ace director SS Rajamouli's combo movie has been titled as 'Baahubali'. It is the most powerful title for any hero recent times. 'Baahu' means 'An Arm and a Shoulder' while 'Bali' means 'Strength'. So, the meaning of the title is " The strength of arms and Shoulders'. Obviously, the hero who plays the role of 'Baahubali' must have an athletic body' consisting a greater strength in arms. Perhaps, Prabhas has understood the importance of developing a gigantic physique and that is why he is busy spending his most of the time in gyms through continuous workouts.
Gorgeous beauty Anushka has been selected the female lead of this mega project. The movie is expected to be made with a whopping budget of Rs.70+ crores. Keeravani will be composing the music of this movie. Arka Media will produce this movie.
Tags:
YOUNG REBEL STAR PRABHAS
S.S RAJAMOULI
BAAHUBALI MOVIE
POWERFULL TITLE
BAAHU MEANS ARM
BALI MEANS STRENGTH
4