Ram Charan's Sacrifice For Rana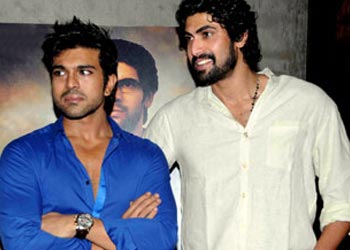 Hero Rana is said to be something more than a friend to Ram Charan.Since they have been childhood friends, it is common for them, to share their tensions, worries and joyful moments. As per the grapevine,Ram Charan is said to have done a little bit of sacrifice for Rana.
As per the story, Rana's 'Naa Ishtam' movie's release has been confirmed as 23rd March. On the other hand, Ram Charan's 'Rachcha' movie is set to release on 29th of the same month. Since there is a gap of just six days between the two releases, Rana is reportedly said to have requested Ram Charan to postpone his movie for one week, so that there will be a clear gap of two weeks between the releases of the two movies. Without any hesitation, Ram Charan has given a nod and subsequently, 'Rachcha's release date has been postponed to 5th April. It is a known thing that the movie's audio release function will be held on 26th of this month in Kurnool city.
Tags:
MEGA POWER STAR
HERO RAM CHARAN TEJ
HERO RANA
CHARAN
SACRIFICE OF RANA
RANA NEW MOVIE
NAA ISHTAM
RAM NEW MOVIE
RACHCHA
RELEASE DATES
4