Surya Bhai Fears for Shah Rukh Khan?!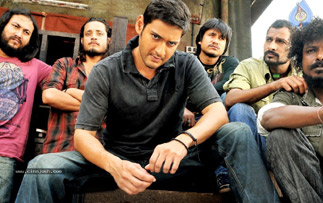 Shah Rukh Khan stands apart from the regular league of heroes in Indian cinema not just for delivering stupendous hits but also for selection of roles in early stages of his career. We do not find even one name like SRK who made such a strong impression on audience by doing negative characters that roused him to the level of Super Star today. When settled heroes normally tend to keep distance from portraying negative characters on the screen, here is our Mahesh Babu as 'Surya Bhai' in 'Businessman' offered Telugu public a kicking experience.
Ever since Puri Jagannath admitted of remaking the same subject in Hindi with Prince, there are gossips in B-town about SRK showing some sort of fear. Definitely Mahesh has the charm and capacity to succeed in repeating the same business sense in Bollywood as what the film has done in Tollywood. It's time that will decide whether Mahesh poses any competition to SRK or not?
Tags:
MAHESH BABU
BUSINESSMAN
SHAH RUKH KHAN
NEGATIVE CHARACTERS
BOLLYWOOD
5