'Rachcha' VS 'Gabbar Sing'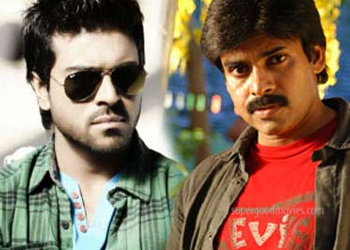 In the current scenario, the makers of big projects are deliberately leaking either dialogues or the lyrics of some of the songs of their movies. And it seems, movies of Mega family are no more different to follow the trend. Recently, Ram Charan's 'Rachcha' title song was leaked in internet. As soon as the song was leaked, it went on viral among the Mega fans. The song received huge response from Ram Charan's fans. Meanwhile, Pawan Kalyan's 'Gabbar Singh' movie's title song lyrics were also leaked by the makers of that movie. Obviously, the lyrics grabbed the full attention among Pawan Kalyan's fans.
Right now, Mega fans are discussing the qualities of both the songs though 'Gabbar Singh's full song has not been leaked like 'Rachcha'. As per some of the fans, both the songs may have their unique style. If 'Rachcha' title song boasts off the greatness of the hero and his inheritance, 'Gabbar Singh's title songs elevates the muscle power of the hero. It is interesting to see which song will finally get the applause of the masses.
Tags:
RAM CHARAN 'RACHCHA' TITLE SONG
MEGA FAMILY
GABBAR SINGH
TITLE SONG LYRICS
4