BM free Publicity in audio functions!
Mon 23rd Jan 2012 03:51 PM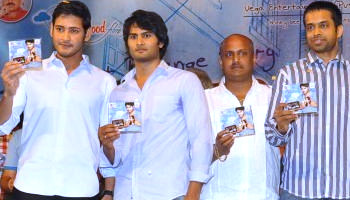 Prince Mahesh Babu's latest offering 'Businessman' seems to be getting free publicity through audio release functions of some of the movies to be released. Sunil's 'Poola Rangadu' audio release function was held recently. R.R.Movies Venkat is the producer of that movie. He is the producer of 'Businessman' as well. Sensibly, he made use of the audio function of 'Poola Rangadu' to publicize his 'Businessman' movie a free of cost. Every celebrity who attended the function gave more priority to flatter 'Businessman' instead of 'Poola Rangadu'. Sources say, the producer might have motivated the guests in this aspect.
Super Star Krishna's nephew, Sudheer's debut movie, 'S.M.S.' audio release function was held at Shilpa Kala Vedika of Hyderabad. Krishna, Vijaya Nirmala and Mahesh Babu graced their presence to the function. Here too, all the praises were showered on Mahesh's 'Businessman', as he became the center of attraction of the function. Meanwhile, Sudheer's mind boggling feats and dances astonished many.
Tags:
BUSINESSMAN
MAHESH BABU
AUDIO FUNCTIONS
POOLA RANGADU
SMS MOVIE
SHILPA KALA VEDIKA
PUBLICITY
4
Latest