'Badrinath' pre-release report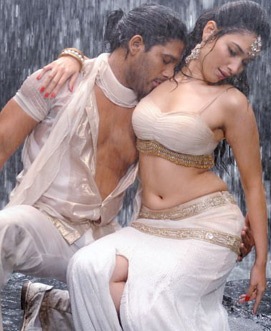 The most talked about movie 'Badrinath' is going to hit the screens in next three days. With sky high expectations already built on, it is Herculean task ahead for Allu Arjun, VV Vinayak and Allu Aravind to reach them. As film is granted the 'A' certificate for over violent scenes, here comes the first and most reliable internal pre-release talk about the film.
Major strength of 'Badrinath' is going to be only and only Allu Arjun with his macho trendy get up. While first half has gone good, it is second half where extreme violence filled action episodes will play the key in deciding the fate of film. Bunny's dances, fights and energetic performance and Tamanna's glamour along with grandeur in settings will be added advantages. Story wise, it might be normal but VV Vinayak's powerful taking will be tested. If audiences accept characterization of Bunny without any question marks, then 'Badrinath' will have a lengthy run at BO with no big releases in market till July end or August else film might still have a stay of minimum 6 to 7 weeks, say an internal source. Even they say that good length of movie is cut on editing table (including climax) in order to decrease the over all span of film which has now come to nearly 155 minutes. Although there is nothing that we can rely upon, let us wait for three more days to get the exact report.
Tags:
BADRINATH
PRE RELEASE TALK
CENSOR REPORT
ALLU ARJUN
TAMANNA
VV VINAYAK
5