Will he replace Charan with Tarak?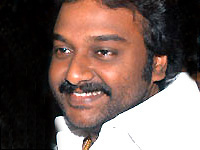 The decision of Vv Vinayak not to stick long time with any of the high profile camps in Film industry has become a big debate subject in Film Nagar circles. Obviously this was meant about Vinayak not getting the exit pass from Mega camp even after the completion of long time pending 'Badrinath.' Normally this sensational action loving director is known for shuttling between Nandamuri and Mega camps very often.
The attachment of Vinayak with Tarak is unconditional and any time their combination will have highest success percentage at BO. So, as soon as 'Badrinath' will be released, instead of doing a film with Ramcharan, it is heard that Vinayak is interested in shifting to Nandamuri camp and a film with Junior NTR could be the most possible event. Producer Kodali Nani is known to have expressed his solidarity to start the film any moment if Vinayak and Tarak say to go on. So, most probably Vinayak might replace Ramcharan with Junior NTR for his upcoming project, if buzz in industry is to be relied upon.
Tags:
VV VINAYAK
RAMCHARAN
JUNIOR NTR
KODALI NANI
AFTER BADRINATH
MEGA CAMP
NANDAMURI CAMP
5