Srikanth in Chiranjeevi's film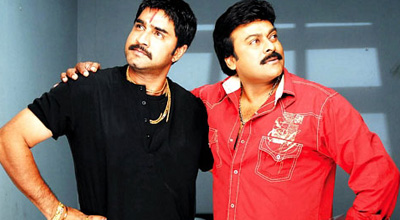 Dashing away all the rumors sprouting in Filmy circles on separation of Mighty Star Srikanth from Chiranjeevi, here comes fresh that both of them are still united and to stay the same for ever. Apparently these gossips increased in intensity when Srikanth went on to join Balakrishna in 'Sri Rama Rajyam' for the role of Lakshmana. Then on even there were baseless nuisance news on Srikanth accepting the appearance of rift with Chiru and that is the reason why he is to join YSR Congress.
Close sources to Mega camp report that, Srikanth is in touch with Chiranjeevi personally without any gaps. As Mega Star became politically busy with PRP and then Congress, Srikanth failed to show their close relation very often to shutter bugs. This led to germination of gossips. In order to put a full stop for all this, Srikanth is known to have requested Chiranjeevi to give him a role like Shankar Dada ATM in upcoming 150th film. Wish that they both rock again.
Tags:
CHIRANJEEVI
150TH FILM
SRIKANTH
NOT SEPARATED
YSR CONGRESS
BALAKRISHNA
SRI RAMA RAJYAM
5