Is this, Pawan Kalyan's Home banner?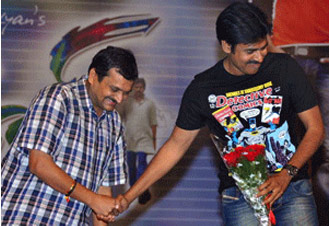 Ever since Chiranjeevi joined the politics, there has been good response from many politicians with in Praja Rajyam and Congress to make films with Mega heroes. Of course Ganta Srinivas Rao was making his best efforts to get the dates of at least one of the Mega compound heroes but still the ambiguity continues.
At this moment, Congress top politician Botsa Satyanarayana overwhelmed by the revenues of average 'Teen Maar' is heard to have shown the curiosity to produce Tollywood's highest ever budgeted flick with a socio-fantasy story. We also know that Ganesh Babu, the salaried employee of Botsa family in film industry will be the frontal personality to make this movie happen. Given the kind of trust developed by Power Star on this comedian, we might get one more film of Pawan Kalyan on Parameswara Arts after 'Gabbar Singh.' Well, in one way Parameswara Arts is becoming the home banner for Pawan.
Tags:
PAWAN KALYAN
PARAMESWARA ARTS
GABBAR SINGH
TEEN MAAR
GANESH BABU
BOTSA SATYANARAYANA
HIGH BUDGETED FLICK
TOLLYWOOD
HIGHEST
5