Prabhudeva forcing Nayanathara for that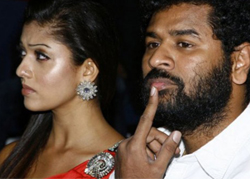 The love story of Prabhudeva and Nayanathara seems to be a never ending one. After too many initial hurdles from Ramlath, the first wife of Prabhudeva, legally a solution of divorce is lying within the eye sight. Following this many could guess the future, as it will be a grand marriage of the long time love pair.
Before that here is a new twist in tale. While Nayanathara is desperate to quit films and wanted to settle down as home maker, it is Prabhudeva gossiped to have been forcing her to act in a Hindi film besides Salman Khan. Despite a busy bee in Kollywood, Prabhudeva wants to direct this flick for Sallu Bhai who is dying to romance Nayan. Even a source commits that Prabhudeva wants to see his would be wife as a top heroine in Bollywood. Well, one has to see which will happen first. Will Nayanathara debut in Hindi films or will she marry Prabhu?
Tags:
PRABHUDEVA
NAYANATHARA
MARRIAGE
HINDI OFFERS
BOLLYWOOD
SALMAN KHAN
FORCING
5